DownUnder The Cloak Volume 01, Issue 04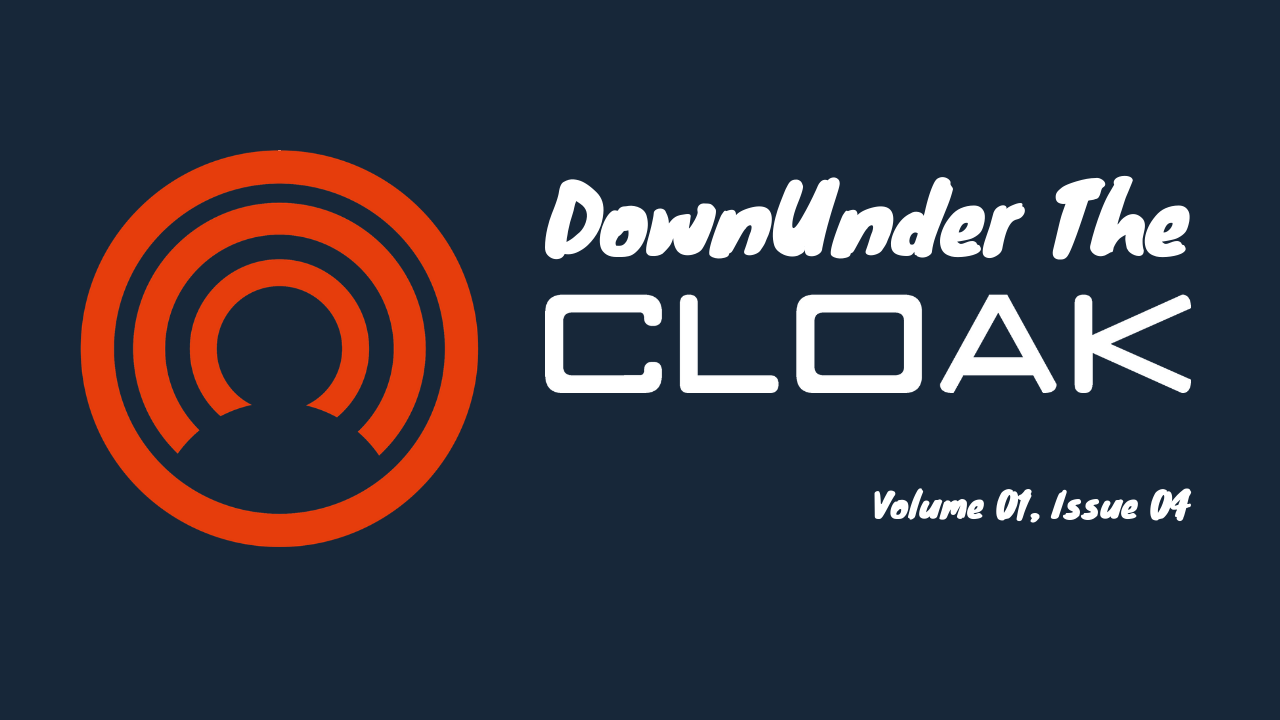 Brisbane bound and all around Sydney town.
What a month. Domestic travel, the Sydney rounds, speaking engagements and crypto payments. I'm really proud of what's been achieved and the new doors opening every day, for myself, CloakCoin and crypto in general.
Entrepreneurs & Influencers Podcast with Pat Page
Myself and Pat go way back, to our old digital marketing days back in Brisbane. It was an absolute pleasure joining him on his podcast, which is a showcase of how be helps other entrepreneurs through Digital Business Partners.
Josh Marriage was drawn into online privacy after he went through the grueling process of having to have his own image removed from unfavourable websites.This occurred after he was stalked due to his popularity after starting the online beard grooming and growing community, Beardspo!Josh talks to me about the importance
Meetups with Nugget's News and NEM Australia
I'd worked with Alex Saunders from Nugget's News at the Bitcoin and Blockchain Fair in Sydney, where he was a keynote speaker. Really enjoyed sitting down with the boys from Nugget's News and NEM Australia. Went along to a NEM meetup where Alex was presenting and got to know the whole gang really well.

Sushi with @NEM_Australia & @Cloak_Australia before tonight's @NEMofficial #Meetup! Tank Stream Labs 6pm if you're in #Sydney! $XEM $cloak pic.twitter.com/gH4vXvSLDJ

— Alex Saunders (@AlexSaundersAU) August 22, 2018
Guest Speaker at BLOCKConscious in Brisbane
What a fantastic event organised by Paul Seils from Crypto Masterminds and his incredible team. Over 3 days at Brisbane's premier startup hub, River City Labs. We shared our thoughts on "Re-imagining Our Future."

I was very fortunate to share the stage with some big names in the Australian crypto scene, all far more qualified (traditionally) than me! Special thanks to to my fellow panels (left to right), you're all superstars:
Lucas Cullen — Consensys
Abheeti Kathryn Pass —Crypto Clothesline Podcast
JP Parker — Infinite Solutions Institute
Professor John Flood  — Griffith University
Dr Prash P. —Caleb & Brown
Karen Cohen  — Blockchain Centre

Roger Ver endorsing CloakCoin's vision at BLOCKConscious
A couple of big names spoke at the event and it was nice to be on the bill alongside them. Both John McAfee and Roger Ver joined us via video link. I got a chance to chat with Roger and get a better understanding of how he feels about privacy. Sure enough I was a bit cheeky, but he had heard of CloakCoin and endorsed our vision!

Paid with crypto on my way through Brisbane airport
Thanks to TravelByBit, who recently received $3.5million dollars in funding from Binance (congrats!!!) I paid for my breakfast at Brisbane Airport with crypto. Unfortunately we don't yet have CloakCoin on their platform… But I'm working on it!

Thanks to @TravelbyBit for making @BrisbaneAirport crypto friendly.

Couldn't pay @CloakCoin just yet, but the @ethereum in my @Ethos_io wallet came in handy.

Couldn't help being cheeky, it's who I am 😂

🤫💰 #privacy #crypto #bitcoin #blockchain pic.twitter.com/9SwT7vQfpl

— Joshua 🤫💰 (@w3dlock) August 13, 2018
Joined Lakeba Group's QuixxiConnect as an Ambassador
These guys are doing some really cool stuff with smart crypto payments. Basically allowing you to make or accept crypto payments with an email address or phone number.
Quixxi Connect enables simple and secure smart payments for crypto.
They also shard private keys, encrypt them and store them on blockchain. Only allowing them to be accessed with security measures such as biometrics.
Not only with their project help with mass adoption, there's a bunch of privacy enabling features that they'll help realise.
Quixxi Connect enables simple and secure smart payments for crypto.
Their ICO is currently running and they're going great!

New Kids On The Blockchain Interview
While on site at the Lakeba Group offices in Sydney's beautiful Manly Beach, I jumped online for a chat with New Kids On The Blockchain.

They've got a professional film and TV background, so going on the show was an absolute pleasure. Unfortunately because I was doing the rounds that day, I didn't have my usual webcam and quality on my end wasn't great.

Around The Cloak Episode 01
To finish off the month, I was really pleased to be promoted to Global Spokesperson for CloakCoin. With this came Cloak's very first video update, Around The Cloak. Now every month I get to share all the latest news with our community, in the format I do best — public speaking (well, sort of hehe).

Thanks for joining me in this update, I know it's extremely late and that there's one more overdue. It will be available within a day of this one.
Really looking forward to sharing my first international trip with CloakCoin for the Coinsbank Blockchain Cruise. I'm catching up on a backlog of updates, which I assure you all is a good thing. There's some awesome news to share and I cant wait!!!