Marketing Update: October 2019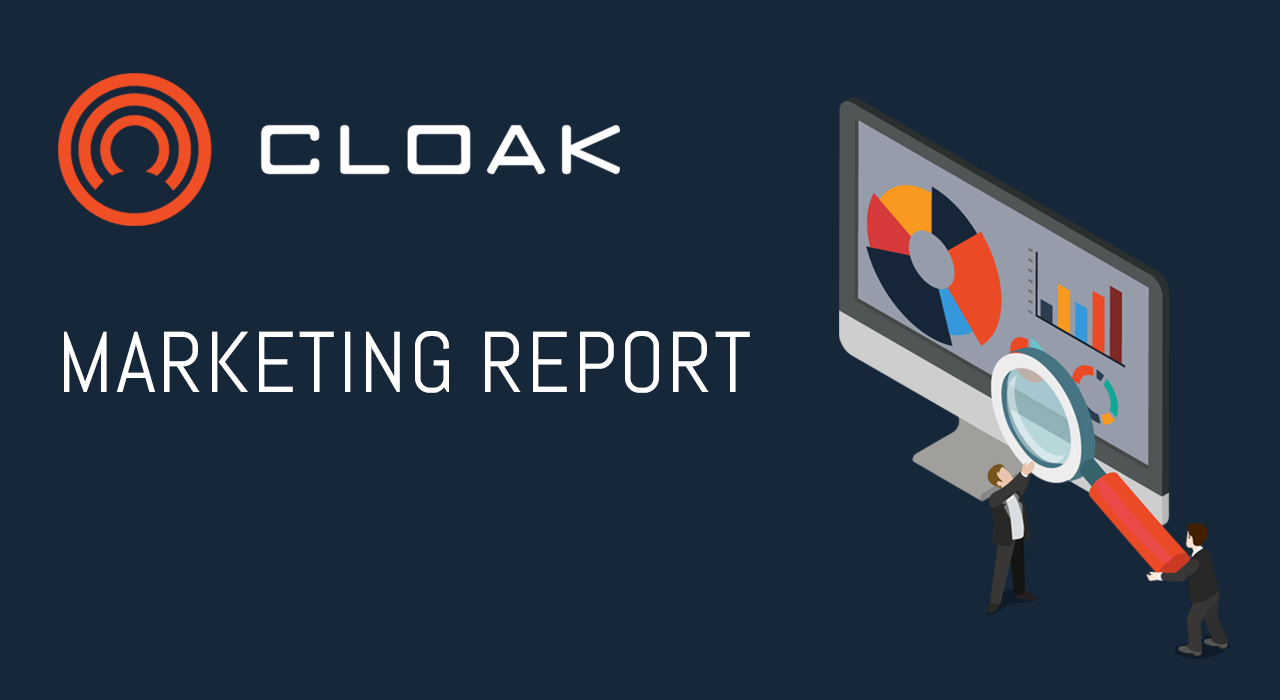 Dear Cloak Community,
In the last 2 months we made a lot of improvements and this will bare fruit. The most import thing is to keep improving every aspect of our project.
Internal Structure Improvements:
We have a 2 weekly marketing meeting followed by a coordinator meeting. In the marketing meeting we analyze the data and try to come up with strategies to improve. for example: we made website changes already. More changes will follow with the goal to make it more user friendly.
We have set targets for our coordinators and gave them next to the regular coordinator tasks specific tasks that we think are important now, this will of course change constantly. They are all motivated and work hard.
Database:
We are working on a database for influencers, news outlets etc., this is an ongoing process and takes time. You need to negotiate about prices and conditions. The database will only be filled with influencers and news outlets etc. where we came to an agreement. That way we can use them directly when we need them.
Our good friend and German TV star Luca Zamperoni shared a private video of him with us, talking about influencers.

Target Group:
Sharing content based on our target group split up into 3 characteristics. We will share content based on each characteristic for a certain period, then we will analyze the data to find out which content has the most success. We already started with content that fits our target group and saw an increase, but we will get more specific to come up with better data driven strategies.
Tipping in Telegram:
You can earn $CLOAK by being active in our Telegram group, once you reached 30 CLOAK we pay out. This is something only a few projects do. The goal is more interaction and giving back to our community.

Giveaways:
We had some good results and fun with the giveaways and will continue to do so. Thanks to all for the participation. It will help to spread our brand and more people will get involved with our project.

#MemeContest by @CloakCoin
💰 Price $250 paid in $CLOAK
🥇 Winner announce | 1st Oct 2019

🧐Rules:
✅ Like & RT
✅ Follow @cloakcoin_promo
✅ Tag your Friends
✅ Comment with #Privacycoin & a self-made CloakMeme

Good Luck🍀#Airdrop #Bounty #Giveaway #Crypto #Win #Prize #Meme pic.twitter.com/CAiHmZhXfS

— CloakCoin Promo (@cloakcoin_promo) September 12, 2019
2,5 k followers🥳 Lets celebrate with a #giveaway

3 persons will get 20$ each. Paid in $cloak#winners announced 21-9

Rules:

✅Like & RT
✅Follow @cloakcoin_promo & Me
✅Tag your friends

Check out our #meme competition & #trading competion with @StexExchangeR as well pic.twitter.com/5XP9GMp5J6

— Iwidepiwi (@iwidepiwi1) September 19, 2019
#Giveaway by @CloakCoin

Price 100$ paid in $CLOAK - ENIGMA address required!#Giveaway ends 10-9-19https://t.co/oOfOTKSEo5

To win
✅ Download wallet
✅ Like&RT
✅ Tag Friends
✅ Comment with a selfmade graphic, pic, vid, gif with CLOAK/Logo

GL🍀#Airdrop #Bounty #Crypto pic.twitter.com/2GIzLaygEl

— Iwidepiwi (@iwidepiwi1) September 1, 2019
$50 #crypto #GIVEAWAY paid in $cloak 💰

To win:
✅#follow @cloakcoin_promo
✅#Like & #retweet
✅#tag your #friends

75 retweets or more, the #price will be $100#winner announced 23-8 #Goodluck 🍀#freecoins #Airdrop #EasyMoney #bitcoin #debtfree #BeFree be $cloak #BYOB pic.twitter.com/UGUbBwTfs2

— Iwidepiwi (@iwidepiwi1) August 17, 2019
Feedback:
We take feedback seriously and we have some ideas to make it easier to leave your feedback, so it doesn't get lost. This is in process and we hope to give an update about it soon. We want to close the gap between our community and us.
Keep in mind that a lot of things we are working on take time and it is difficult to come up with exact dates, although we understand the need for it. Silence is often better than putting out news that we later must retract or adjust. Feel free to contact us with questions or suggestions in our Telegram group or via our website at anytime.

Ambassador Plan:
In November we will roll out our ambassador plan. The purpose is to spread our brand and involve everyone to contribute to our project and get rewarded. We look forward how this will play out and hope of course that we get a lot of forms filled on how they want to contribute based on the selection of topics we made.

News:
Our new wallet is nearly ready to be tested. We shared pictures of it before and it looks amazing. Here you see that we value feedback because some new functions are added upon your request.

#waitforit the next months are going to be #LEGENDARY

You are going to love our new wallet and new features

Cant wait to share what we all have in store

New #Wallet release & more exciting #news soon

So #CloakUp you don't want to miss this#CryptoNews #proofofstake #privacy pic.twitter.com/qBhbjGQqqZ

— Iwidepiwi (@iwidepiwi1) September 11, 2019
Business Manager:
Our Brazilian and Portuguese Coordinator took on the role as Business manager next to his role as Coordinator. He is working hard to expand our vendor's base and is doing it successfully. He is the first point of contact for companies regarding integration and other topics. He will start selecting a "vendor of the month" with whom we will do cross marketing activities and where you can purchase products or use their services with a discount during that month, paying with Cloak.

Marketing Team:
Ehrich joined our Marketing Team, we work together daily and his contribution is valuable. With his pictures and messages, he showcases the different qualities of our project and our overall purpose. He will help us to carry out our new marketing strategy.

We are proud to announce that Ehrich @_BeYourOwnBank_ will join our team.

Ehrich, thank you for your contribution so far and welcome to the Cloak family.

We know you will keep doing a great job.https://t.co/P94UP7IfKO#Cloakfamily #Cloakstrong #befree be $cloak #BYOB pic.twitter.com/EqKL2pbtxv

— Iwidepiwi (@iwidepiwi1) August 23, 2019

Cloak is more than a cryptocurrency. It's a way of critically looking to the world around you but with an open mind.
Cloak gives you freedom, for yourself and for your loved ones. Being able to enjoy life in a financially secure and private way is a lifestyle we all deserve.
It is on us to make people know that Cloak is here. So, everyone who has a Twitter/Facebook account, like and share our content. You can be of great help to spread our project.
Together we are #CloakStrong
Be free Be Cloak - BYOB
Peace & Love