La competition ENIGMA di CloakCoin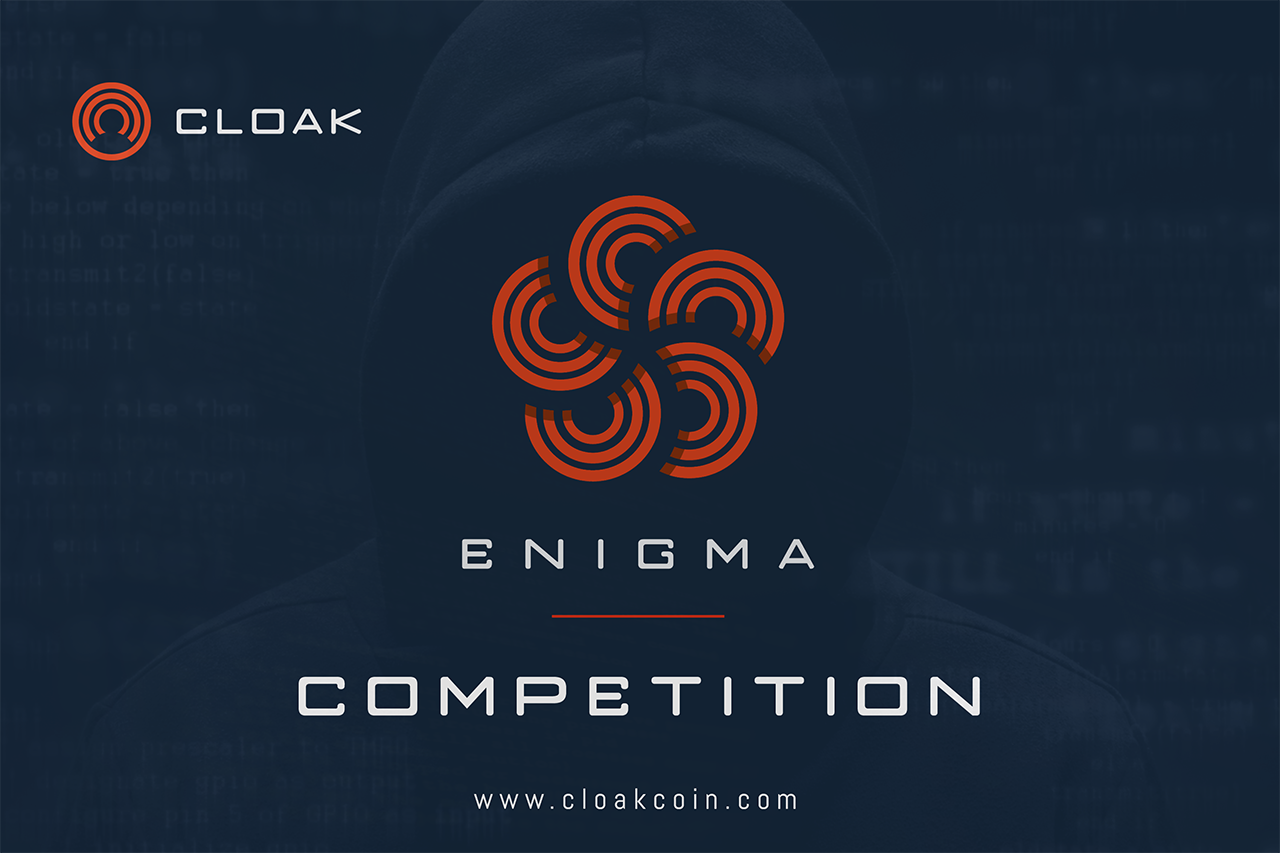 Cara CLOAK Community,
Dopo molti ritocchi, revisioni e test, il Cloak Team è molto lieto di annunciare la prima Competizione ENIGMA di CloakCoin!

COSA È IS ENIGMA?
ENIGMA è un sistema di pagamento decentralizzato off-blockchain dal Progetto CloakCoin. ENIGMA funziona su nodi Cloak insieme a CloakShield per fornire mixing peer-to-peer, crittografia ed onion routing. ENIGMA consente di inviare CloakCoin in modo anonimo evitando la necessità di "fidarsi" di altri nodi che rubino fondi o divulghino informazioni riservate.
ENIGMA garantisce fungibilità, evitando la possibilità che le monete vengano segnate, il che significa che tutte le monete rimangono uguali ed intercambiabili.

RIGUARDO ALLA COMPETIZIONE:
Prova a risolvere la seguente transazione CloakCoin ENIGMA.
Vorremmo sapere quanti CloakCoin sono stati inviati, chi era il mittente e chi era il destinatario. COMPILARE IL MODULO

IL PREMIO?
La prima persona o team che ci comunicherà correttamente le informazioni richieste entro 42 giorni (19 giugno 2019 - 0:00 AM GMT +1) (31 luglio 2019-0: 00 GMT +1) (11 settembre 2019-0: 00 GMT +1) (23 ottobre 2019-0: 00 GMT +1) (4 dicembre 2019-0: 00 GMT +1) riceverà 10.000 CLOAK. Il premio verrà pagato entro 1 settimana dalla fine della competizione.

We're entering the next round!
The fourth round of the CloakCoin #ENIGMA #Competition is still unhacked!

Try your best in the next 42 days & win 10,000 $CLOAK 🔥

🔐 https://t.co/sRqZauIjkf #CloakCoin #CloakEnigma #Blockchain #Privacy #Unhacked #Crackthecode #BYOB #Crypto pic.twitter.com/yuDEjWmTdX

— CloakCoin - Pay with $CLOAK, not your privacy (@CloakCoin) October 24, 2019
L'OBIETTIVO?
In caso, la decrittazione della transazione ENIGMA può aiutare a migliorare ulteriormente la privacy e la sicurezza del sistema di pagamento ENIGMA e della rete CloakCoin, analogamente ad un controllo di sicurezza esterno.
Stiamo cercando possibili vulnerabilità che potrebbero compromettere la privacy degli utenti e vogliamo attirare menti coscienti per interagire con la nostra tecnologia sulla privacy. Inoltre, vogliamo diffondere l'importanza di una transazione anonima e fungibile sulla blockchain CloakCoin senza sacrificare l'offerta totale della moneta.
Stay SAFU 😉
Peace & Love
Il Team di Cloak