El desafío del enigma de CloakCoin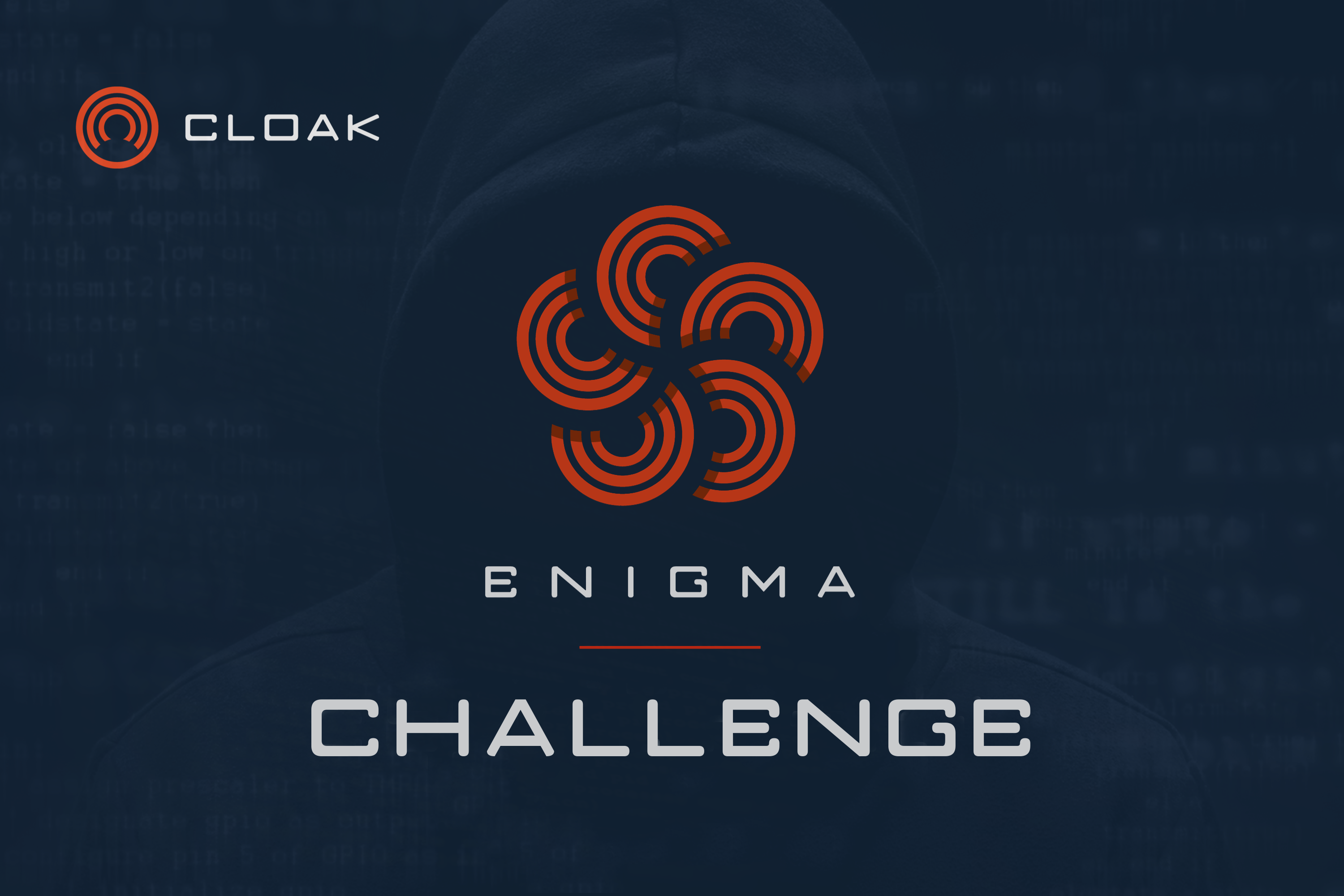 Querida comunidad CLOAK,
Después de muchos ajustes internos, revisiones y pruebas, el Team Cloak está muy emocionado de anunciar el primer concurso CloakCoin ENIGMA.

Que es ENIGMA?
ENIGMA es un sistema de pago descentralizado fuera del blockchain del Proyecto CloakCoin. ENIGMA se ejecuta en los nodos de Cloak junto con CloakShield para proporcionar mezcla peer-to-peer, cifrado y enrutamiento onion. ENIGMA permite que CloakCoins se envíen de forma anónima, evitando la necesidad de "confiar" en otros nodos para no robar fondos o filtrar información confidencial.
ENIGMA garantiza la fungibilidad, evitando la posibilidad de que alguna moneda se manche, lo que significa que todas las monedas permanecen iguales y intercambiables.

Acerca de la competencia:
Intenta resolver la siguiente transacción CloakCoin ENIGMA.
Nos gustaría saber cuántas CloakCoins se han enviado, quién fue el remitente y quién el destinatario. Rellena el formulario

¿La recompensa?
La primera persona o equipo que nos diga correctamente la información requerida dentro de los 42 dias (19 de junio de 2019 - 0:00 AM GMT +1) (31 de julio de 2019 - 0:00 AM GMT +1) (11 de septiembre de 2019-0: 00 GMT +1) (23 de octubre de 2019-0: 00 GMT +1) (4 de diciembre de 2019-0: 00 GMT +1) recibirá 10,000 CLOAK. La recompensa se pagará dentro de una semana después del final de la competencia.

After 210 days the ENIGMA competition ends today!
Result: Uncracked❗️ We level up to 'The ENIGMA Challenge'.
The challenge runs until we get proof the TX is cracked.
We invite everyone to try & crack ENIGMA.

🔐 https://t.co/xZiOLz3VZe#CloakCoin #CloakEnigma #Enigmachallenge pic.twitter.com/wxSuozKeZK

— CloakCoin - Pay with $CLOAK, not your privacy (@CloakCoin) December 4, 2019
¿La meta?
En caso del descifrado de la transacción ENIGMA, puede ayudar a mejorar aún más la privacidad y seguridad del sistema de pago ENIGMA y la red CloakCoin, análogamente a una auditoría de seguridad externa.
Estamos buscando posibles vulnerabilidades que podrían comprometer la privacidad de los usuarios y queremos atraer mentes conscientes para interactuar con nuestra tecnología de privacidad. Además, queremos difundir el conocimiento de una transacción anónima y fungible en el blockchain de CloakCoin.
Permanece SAFU 😉
Amor y paz
Team Cloak