DownUnder The Cloak Volume 01, Issue 10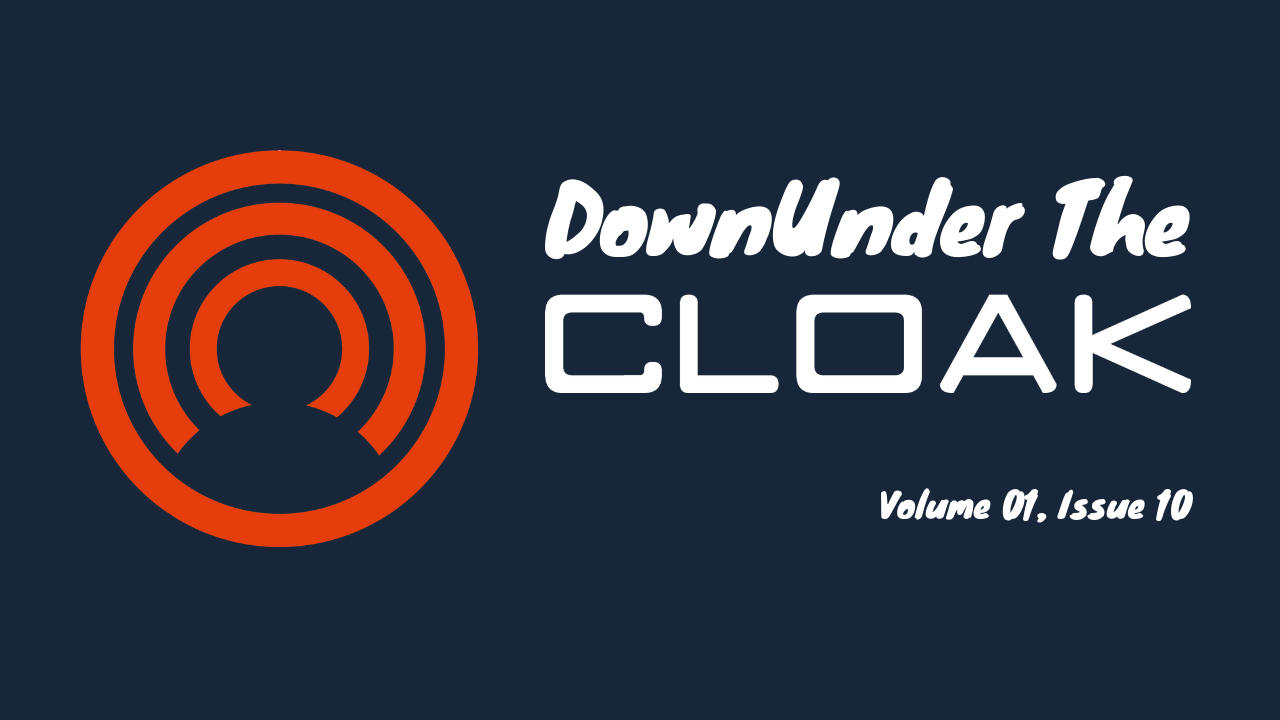 Protecting your privacy while you invade mine.

This month has involved extensive travel, career milestones, bright ideas and entrepreneurial endeavours. From sharing big ideas with a crowd of people, to pitching even bigger ideas across a boardroom table, the outlook is positive and I'm focused on forging a path forward.

Anarchapulco Keynote Presentation
As you're most likely already aware, I took to the stage at Anarchapulco, Life Unchained in beautiful Acapulco, Mexico. It was day one when I did my thing on the Cryptopulco stage and I was delighted to be met with a full house.


Feel free to listen to the audio recording I took using my iPhone.


Unfortunately it's not the best quality, but in the next issue of DownUnder The Cloak, I'll be able to share with you a full video of my talk. A lovely audience member recorded all talks on the crypto stage and will soon be making them available.

Anarchapulco Free Talk Live interview
Following my presentation at Anarchapulco, I was very fortunate to join the guys from Free Talk Live for a half-hour interview broadcast to over 200 radio stations across the United States.



You can catch the full episode on their website. The guys were great fun to work with and are actually known for introducing Roger Ver to Bitcoin. They're 100% OG. listen to a cut version containing only my interview.

Met Ash and Lisa from New Kids On The Blockchain
Having worked with Ash and Lisa on numerous occasions, it was so nice to finally meet them both in person. You may have already seen one of my interviews on their YouTube channel.

Mentioned on The Dollar Vigilante to 220k subscribers
Speaking of Anarchapulco… Jeff Berwick was recently interview by Brian Wilson from Crypto Daily — myself and CloakCoin got a nice little mention.


This is great as it opens the door for discussions with Jeff about CloakCoin, especially after having been a keynote speaker at the event he founded. During his 'State of Crypto' speech he mentioned Monero is his favourite cryptocurrency across the board.
Here's a great opportunity to educate him on Cloak now that we are on his radar. I look forward to following up and also speaking at Anarchapulco again in 2020.

Around The Cloak Episode 6
Each month in my updates I like to mention my most recent Around The Cloak filming session. This is because sometimes there is cross over between my own content and the overall updates from the team.


If you haven't yet subscribed, you really should. Around The Cloak is our monthly video update on progress and developments. It's the easiest way to get all of the relevant news, in an easy to consume format. Simply click here to subscribe if you haven't already.

Australia's leading cryptocurrency and blockchain news site mentions me and CloakCoin
Huge thank you to Dr Prash, the CEO of Australia's leading cryptocurrency borkerage, Caleb & Brown. He reached out following Anarchapulco for my thoughts on privacy to include in an article he wrote on Micky.

Great read from Dr Prash of @calebandbrown following #Anarchapulco2019.

Nice little mention of @satoshua and @CloakCoin on @MICKYNewsOz

Anyone keen to check out @Anarchapulco next year?https://t.co/i5sgf7xZvc#crypto #privacy $BTC $CLOAK #bitcoin #blockchain

— Joshua 👻 (@satoshua) 5. März 2019

If you'd like to read more of Dr Prash's work on Micky.com.au, check out this link. I'm really looking forward to getting involved with more trusted news media focused on fintech and broader finance in general.

Signing off…
March is set to be another huge month with media engagements and helping the Cloak team to create awesome new educational content. I'll also be laser focused on building Privacy Express (I've been pitching a HUGE idea and hope to secure funding to make it a reality) in partnership with CloakCoin. Can't wait to share the latest with you in the next issue of DownUnder The Cloak.
Peace & Love