CloakCoin Developer Report — August 2019

The monthly dev update series will inform users about the progress of the development from CloakCoin
Another month has passed by and our focus for the last 30 days was with our devs at Chainsulting on the new wallet upgrade to electronJS. The other part of Cloak dev team focused on the upcoming codebase upgrade and its preparation. We also did more research on BYOB and especially the escrow and deposit guarantee functions. You will see in the upcoming dev reports more detailed descriptions about BYOB functions and we are keen to make the development progress public, as soon as we can. In the last month we also had phone calls to our office (Chainsulting), from our crowd about development updates.
Regards to that I just want to share with you, that we can only talk about public stuff which is on Github or shared via the blog article, but you are free to call us for some small talk. Seriously which other developers in crypto projects are you able to call by phone (smile). We want to show you transparency and privacy can work nicely together, and we are still a community running project, which works only with your commitments (funding, ideas, comments etc.).

Milestone Updates
Wallet Upgrade
Let me share with you some facts and updates from the wallet upgrade. So far 2 authors have pushed 37 commits to master. On master, 425 files have changed and there have been 38,526 additions and 3 deletions. We finished the front end and also some rpc calls. The dashboard is already working and right now we need to make some changes. We will definitely finish the wallet in Q3 and then able to focus completely on the BYOB development.
Github activity August 2019

Follow our repository on github and stay up to date.
Note: If you can't use yarn, run npm install. Navigate to the directory you cloned the repo into. Enter npm install Start the app in the dev environment. This starts the renderer process in hot-module-replacement mode and starts a webpack dev server that sends hot updates to the renderer process: Is done using i18next package, the configuration is stored in ./app/i18next.config.js.
Codebase Upgrade (Codename Phoenix)
The Cloak core-developer rzr (r3rcloak) is working on the codebase update and especially is doing a lot of R&D (Research and Development). Right now it looks like a merge to bitcoin codebase 0.17 and some fractions of PoS coins, which had already done some work for us ;-). We don't need to reinvent the wheel, will save a lot of time, which we need for our DEX. Still a lot of work in front of us but possible to solve.
Small sneak peek of the new frontend (made by @cdittmann )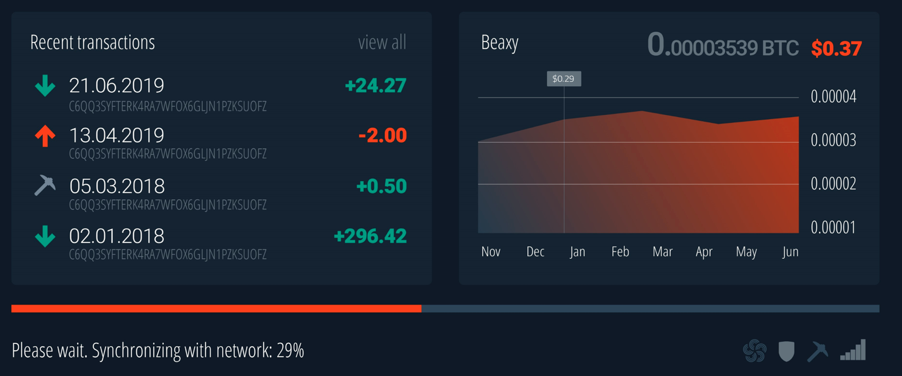 Conclusion
The last 30 days been more a push code and hacking the keyboard until the fingers are bloody, instead of releasing something new. But we will soon be back in September with some new cool Cloak releases, to get closer to our main goal, as most used privacy tool for digital transactions. Stay tuned and follow us on Github or feel free to reach out via [email protected]
Peace & Love